I first read about Beyond Meat in WIRED Magazine in an article by celebrity chef Alton Brown, who toured the facility and tasted the product to give an honest omnivore's assessment of whether Beyond Meat has a real shot at cutting back meat consumption in the U.S. Of course the article piqued my interest because I'm a loyal WIRED reader and a vegetarian constantly in search of inspiration for my next meal. But when I saw that Beyond Meat is located in Columbia, Missouri – the town of my alma mater and just two hours from my home in Kansas City – I got irrationally excited to try it. It's local after all! Then, much to my surprise, the brand also popped up in a recent issue of Popular Science magazine not long after!
The WIRED article featured delectable-looking recipes featuring this new meat substitute product, including one for Chicken-Free Stir Fry that we made (photo below). A quick visit to the Beyond Meat website pointed me to my local Whole Foods, where I found its three varieties in the refrigerated section right next to the tofu and Soyrizo. I expected it to be exorbitantly expensive, but was pleasantly surprised that it was around the $4 price point for about 4 servings worth of Lightly Seasoned Chicken-Free Strips.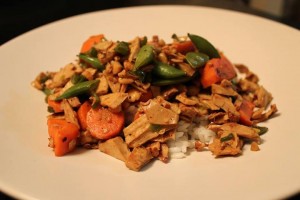 Immediately upon opening the package I gave the cold product a taste. Not overpowering on the chicken flavor right away – which to me is a good thing. Most meat-like fake meat freaks me out, to tell the truth, but it was just chicken-y enough to be persuasive. I needed to "shred" the chicken strips for this recipe, and the strips almost seemed to peel apart in layers. It's just as easy to chop it up roughly with a hefty knife. I will say that when we used chunks of it in a Mexican soup later, they were too hefty and dense. The only notable down-side I found to this product is that you almost need to shred this product to get optimal texture and flavor. Otherwise it's a gray, dense hunk of faux meat that doesn't quite "mesh" with your dishes. But if you shred it or chop it, you're good to go.
Cooking with the product was an absolute breeze. It really is as simple as substituting the product for chicken in this recipe and the several others we tried with it. No special treatment. We have made it in this stir fry recipe, a soup recipe and soft tacos so far, and will continue to try various treatments and recipes we may have enjoyed prior to going vegetarian.
The most important thing about the Beyond Meat Lightly Seasoned Chicken-Free Strips is that it meshed well with the recipe and it was fully satisfying. My husband is a more recent (2 years ago) convert to vegetarianism than I (10 years ago), so his standards are even higher than mine when it comes to meat substitute products. The Beyond Meat Chicken-Free Strips managed to satisfy him and his voracious appetite, so all was good in the 'hood. He even requested that I put it on the grocery list again not long after.
I would definitely recommend trying this product to my fellow vegetarians and vegans. Pick up a box of their Lightly Seasoned, Grilled or Southwest seasoned Chicken-Free Strips at your local Whole Foods or Nature's Pantry. Work it in with some of your favorite vegetarian-friendly recipes, or chicken-based recipes from your pre-vegetarian days. Share in the comments what you think of it!