The beginning of each new year brings about the promise of a fresh start, a chance to make good on our good intentions. For many of us, this means changing our diets to lose weight or to control certain health issues. Each year, U.S. News and World Report magazine researches major diet trends, compiling a list of the best and worst diets and rating them according to seven specific criteria: both short- and long-term weight loss, ease of implementation and use, nutrition, safety, and diabetic and heart health. A panel of health experts, including physicians, nutritionists, and food psychiatrists, carefully examines each dietary plan and ranks it on a scale of 1 to 5; all seven factors determine the diet's overall score.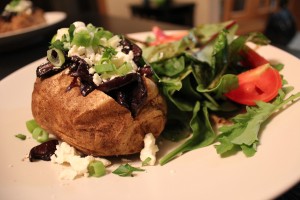 U.S. News evaluated more than 32 diets for Best Diets 2014. The list is "designed to help consumers identify a diet that suits their specific needs," according to Angela Haupt, Health and Wellness editor for the magazine. The Dietary Approaches to Stop Hypertension plan (DASH), developed primarily to combat high blood pressure through portion control and protein/carbohydrate balance, came in at number one. But both the flexitarian and vegetarian diets placed in the top third of this year's list. Last place was awarded to the popular "Paleo Diet," which was deemed too restrictive and difficult to follow to regularly achieve the desired results.
The flexitarian diet placed at #6 for 2014. Flexitarians follow a vegetarian diet most of the time, but with some flexibility factored in to allow for the occasional consumption of meat products. It is balanced, nutritious, usually results in weight loss, and is entirely customizable according to taste and health needs.
Vegetarianism placed 11th on the list. A vegetarian diet is nutritionally sound, aids in the control of diabetes, and is heart healthy if followed correctly – consisting mostly of plant-based proteins, fruits, and vegetables rather than high amounts of fats or sugars. It is restrictive in that no meat is consumed at all, and therefore requires a certain amount of planning. It can also be somewhat costlier to begin than a traditional mixed diet as you're learning to modify your meals to not include meat and animal byproducts. However, the cost is quickly offset by its numerous health benefits, and by eliminating the cost of meat in the long-term from both your grocery bills and restaurant tabs.
Studies show that balanced, plant-based diets are instrumental in preventing heart disease, losing weight, and keeping blood pressure and bad cholesterol in check. Both flexitarian and vegetarian diets are deliciously varied, safe to follow, and highly beneficial to one's overall well-being.