Vegetarians and their diets are frequently stigmatized by others: "Not eating meat is unnatural! It's weird! Vegetarians must be so weak and unhealthy!"
Yet nothing could be further from the truth. Vegetarian diets are not just a frequent staple of healthy living, but are enjoyed by some of the fittest people on our planet. With the 2014 Winter Olympics in Sochi just on the horizon, we are reminded that it is not only possible, but quite common to compete at the highest level of athletic excellence while remaining completely vegetarian.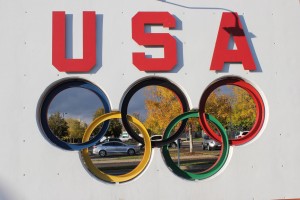 Here are just some of the greatest Olympic athletes from around the world, past and present, who all reached their athletic success while living the vegetarian or vegan lifestyle:
Alexey Voyevoda – Russian bobsledder Alexey Voyevoda is a mountain of a man and a two-time Olympic medalist. He credits raw vegetarianism and healthy living to his high fitness level, and all eyes will be on this Sochi native this February.
Hannah Teter – Hannah Teter is a talented American halfpipe snowboarder who is Sochi-bound this year. This, after already medaling in each of the last two Olympic games. Teter has attributed her plant-based diet to giving her the renewed strength and energy to reach and stay at the highest possible competitive level in her sport.
Edwin Moses – Edwin Moses completely dominated the sport of running for eight solid years, from 1977 to 1987. Winning an unprecedented 122 consecutive races and more than his share of medals, Moses did it all on a plant-based diet.
Charlene Wong – Charlene Wong is a very accomplished figure skater, winning four silver medals at the Canadian Figure Skating Championships – all while meat-free. "It all started with my desire to be as lean and healthy as possible as a teenager around seventeen years old," she confided in a 2012 interview.
Carl Lewis – Many are familiar with track and field legend Carl Lewis. Lewis's storied career spanned multiple decades and multiple Olympic games. By the end of his career, Carl Lewis had won an astonishing 10 Olympic medals, nine of which were gold, and cemented his legacy as one of the fastest men to ever live. Carl Lewis is a devout vegetarian.
Ronda Rousey – Ronda Rousey is one of the toughest women in sports today, a heavy hitter in the UFC and judo Olympian. Rousey is the current number one pound-for-pound female mixed martial arts fighter in the world. Yet few are aware that she was also a strict vegan at when she made it big in athletics. However, Rousey has since begun eating meat as part of the Dolce Diet. That said, Rousey's ongoing commitment to healthy eating has given her the edge to be one of MMA's most dominant competitors, if not one of its most intriguing personalities.
Surya Bonaly – French-American figure skater Surya Bonaly is another athlete who adheres to a vegetarian diet. Bonaly was an unbeatable force on the ice throughout most of the 1990s, winning medal after medal, including five gold medals in the European Championships.
Chris Campbell – From his 700-pound leg presses to his crushing holds, Chris Campbell was the epitome of athletic excellence in 1992, when he became one of the oldest men to win an Olympic medal in wrestling. Campbell was just a few months away from his 38th birthday at the time, and credits ample helpings of his favorite dish – tofu stroganoff – for his great longevity in the sport.
Bode Miller – Skier Bode Miller won our hearts in the 2002 Olympics in Salt Lake City, and again in the 2010 Olympic Games in Vancouver. But he also won five Olympic medals as well, all while being a strict vegetarian. In fact, Bode Miller has been vegetarian since birth, and is a leading advocate for sustainable organic farming.
Debbi Lawrence – Debbi Lawrence was a compelling figure in an often overlooked sport called racewalking. A three-time Olympian, Lawrence is proof that vegetarianism can benefit athletes from all "walks" of life, spanning all manner of sports.
Dylan Wykes – Canadian runner Dylan Wykes is one of the best distance athletes his country has ever produced. Preferring a diet rich in quinoa and lentils, Wykes does not eat meat due to ethical concerns.

Lizzie Armisted – Photo by DAVID ILIFF. License: CC-BY-SA 3.0

Murray Rose – Murray Rose's swimming feats in the 1956 and 1960 Olympics established Australia as one of the world's most dominating swimming powers. A winner of six medals, Rose was a vegan throughout his career and throughout his life, while openly crediting all of his success to his diet.

Lizzie Armitstead – Like Bode Miller, British cyclist Lizzie Armistead has been vegetarian since birth. Armistead was the pride of her nation during the 2008 Olympics in London, when she won a coveted cycling medal. All without, as she puts it, "eating corpses."
As these athletes have demonstrated, athletic excellence is in no way contingent on the consumption of meat. As vegetarianism and veganism become increasingly commonplace, many athletes are finding that plant-based diets are not only possible, but can even give them that extra edge they need to succeed in high-intensity and demanding events like the Olympics. All of us at Vegetarian Nation wish the athletes – vegetarian and otherwise – the best of luck in Sochi next month!